vIRTUAL bOOK tOUR & prESS kIT
A Stigma-free Guide to Embracing Your Dissociative Mind and Navigating Daily Life
ABOUT DISSOCIATION MADE SIMPLE
Dissociation 101: The go-to guide for understanding your dissociative disorder, breaking the stigma, and healing from trauma-related dissociation.
Guided by clinical counselor Jamie Marich–a trauma-informed clinician living with a dissociative disorder herself–this book tells you everything you need to know about dissociation…but were too afraid to ask.
Here, you'll learn:
What dissociation is–and why it's a natural response to trauma
How to understand and work with your "parts"–the unique emotional and behavioral profiles that can develop from personality fragmentation
There's nothing shameful about dissociating–that, in fact, we can all dissociate
Skills and strategies for living your best, authentic, and most fulfilled life
What to look for in a therapist: choosing a healer who sees you and gets it
Foundational elements of healing from trauma, including PTSD and C-PTSD
With practical guided exercises like "The Dissociative Profile" and "Parts Mapping," this book is written for those diagnosed with dissociative disorders, clinicians and therapists who treat trauma and dissociation, and readers who are exploring whether they may have dissociative symptoms or a condition like dissociative identity disorder (DID). Dissociation Made Simple breaks it all down accessibly and comprehensively, with empowerment and support–and without stigma, judgment, or shame.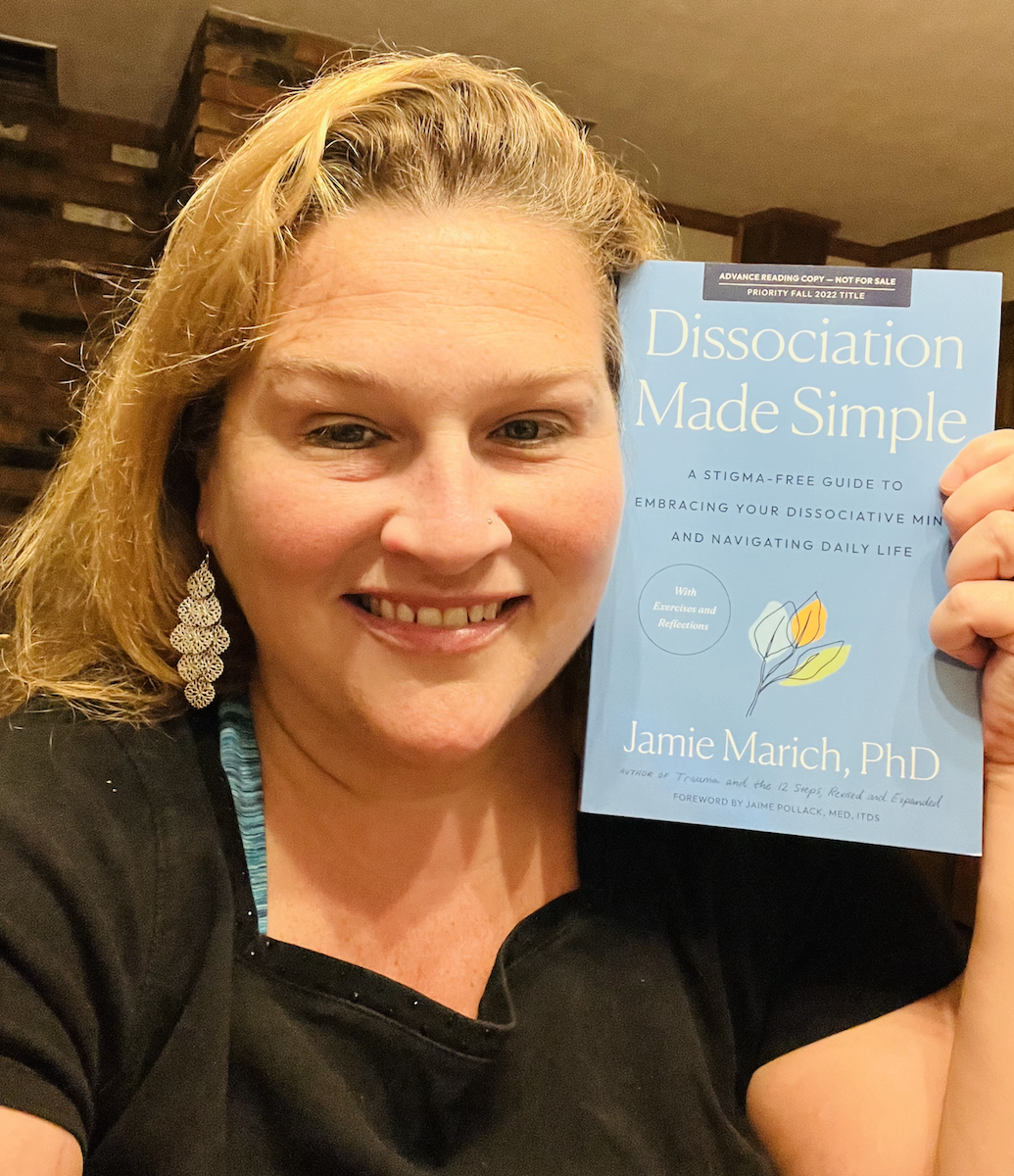 Dr. Jamie Marich (she/they) describes herself as a facilitator of transformative experiences. A clinical trauma specialist, expressive artist, writer, yogini, performer, short filmmaker, Reiki master, TEDx speaker, and recovery advocate, she unites all of these elements in her mission to inspire healing in others. She began her career as a humanitarian aid worker in Bosnia-Hercegovina from 2000-2003, primarily teaching English and music while freelancing with other projects. Jamie travels internationally teaching on topics related to trauma, EMDR therapy, expressive arts, mindfulness, and yoga, while maintaining a private practice and online education operations in her home base of Warren, OH. Jamie is the author of numerous books on trauma recovery and healing, with many more projects in the works. Marich is the founder of The Institute for Creative Mindfulness.
2019 EMDR Advocacy Award
The EMDR International Association (EMDRIA) granted Jamie their EMDR Advocacy Award for using her public platform in media and in the addiction field to advance the cause of EMDR therapy and to reduce the stigma around mental health and addiction.
NYT Featured in 2017 & 2020
The New York Times featured her work with Dancing Mindfulness in 2017 and 2020 as part of their Meditation for Real Life series.
NALGAP President's Award 2015
For exhibiting leadership in educating health care professionals about addictions, behavioral health, trauma and related concerns among lesbian, gay, bisexual, and transgender individuals and their communities.
Request to have Jamie appear on your channel, show, podcast or live event, or just ask a question.